Hall County, Georgia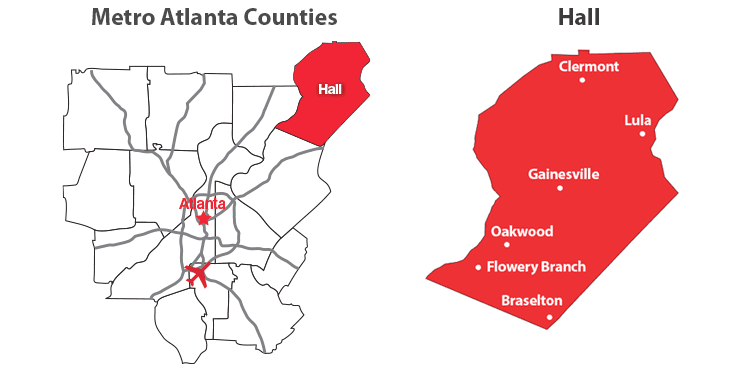 Bordered by the beautiful Lake Sidney Lanier and the foothills of the Blue Ridge Mountains, Hall County is a vibrant, growing and diverse community that offers an unparalleled quality of life and a sound economic base for business and industry.
Major Employers:
Northeast Georgia Medical Center
Hall County School System
Fieldale Farms Corporation
Kubota Manufacturing of America
Victory Processing LLC
Hall County Main Attractions
1. Lake Lanier Islands and Golf Resort

2. Atlanta Botanical Gardens, Gainesville

3. Northeast Georgia History Center

4. Road Atlanta
Hall County, Georgia Demographics
Familes & Kids
Families 73%
With Kids 31%
Median Age
37
Total Population
202,148
Male 100,325
Female 101,823
Hall County Area Cities
Braselton spans four counties, including Barrow, Gwinnett, Hall and Jackson, and is home to Château Élan Winery & Resort, which attracts more than half a million visitors each year.
Hall County Services & Contact
GAS SCANA Energy scanaenergy.com
Approved Natural Gas Marketers psc.state.ga.us, click "Natural Gas"

PHONE/CABLE/INTERNET Xfinity/Comcast xfinity.com
AT&T
att.com
Spectrum
spectrum.com

ELECTRICITY Georgia Power Company georgiapower.com Jackson EMC jacksonemc.com Sawnee EMC sawnee.com

WATER Gainesville Water Department gainesville.org City of Flowery Branch flowerybranchga.org

SCHOOL BUS ASSIGNMENTS Hall County Schools 770-287-0942 Gainesville City Schools 770-536-8312

GARBAGE Gainesville Residents 770-532-0493 Hall County Residents 770-531-6851

DRIVER'S LICENSE 1010 Aviation Blvd. Gainesville, GA Tuesday-Friday, 8:30 a.m.-6 p.m. Saturday, 8 a.m.-noon dds.ga.gov

LIBRARIES Hall County Library System 770-532-3311 hallcountylibrary.org

TAG OFFICE 2875 Browns Bridge Road Gainesville, GA 770-531-6950 hallcounty.ga

PARKS Hall County Parks & Leisure Services hallcounty.org
Atlanta Georgia Metro Counties